| | |
| --- | --- |
| | 2020 work programme approved by the GBIF Governing Board in Leiden, 21 October 2019 |
Overview
The relationship between these documents is represented by the following graphic.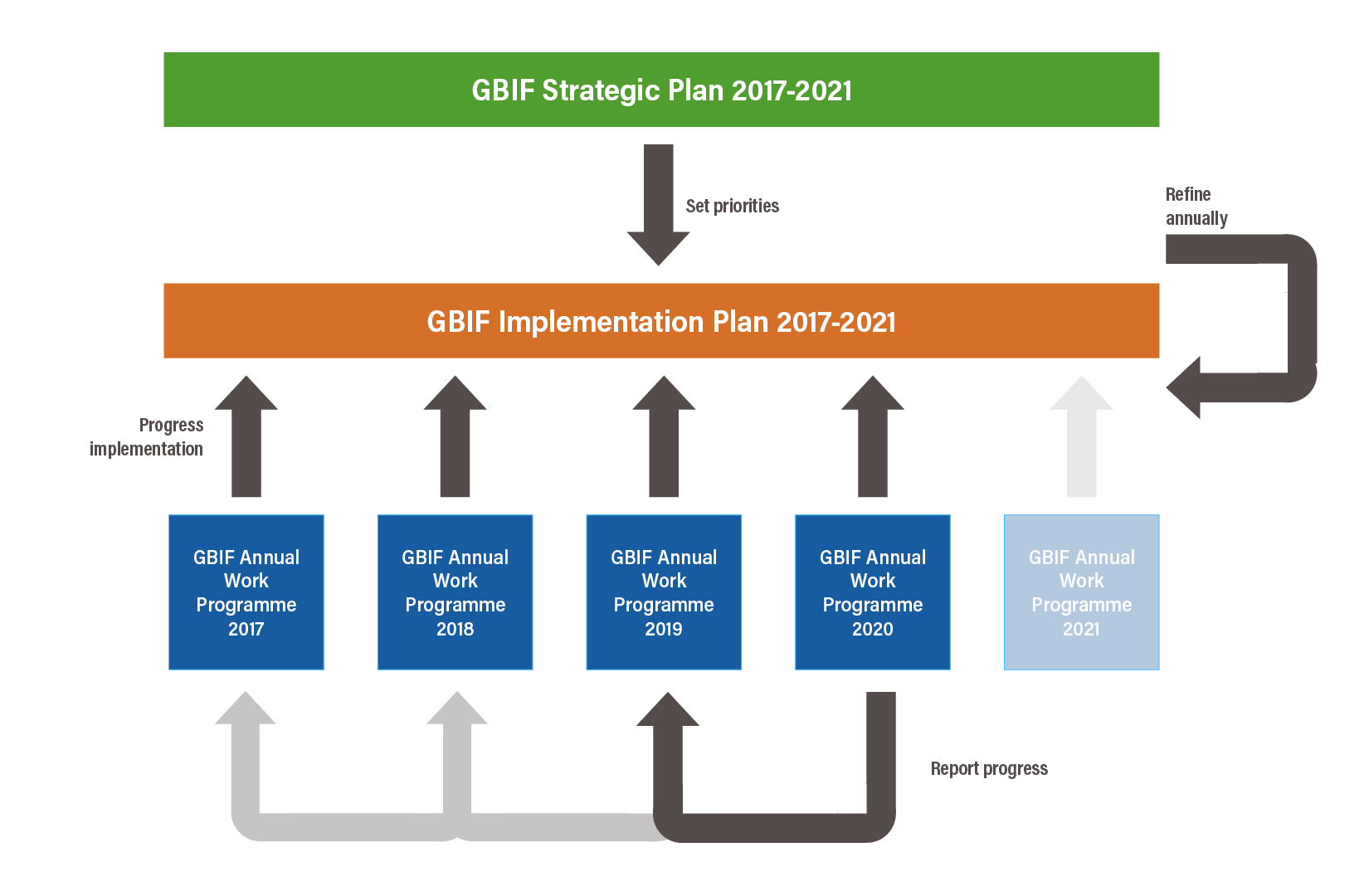 The Strategic Plan (agreed in 2015 at GB22) established five priorities for GBIF's work.
The Implementation Plan presented here in this document identifies 22 activities which GBIF must undertake to address these priorities during the five-year period (and a set of specific tasks under each activity).
Each year, GBIF reviews progress against these activities and available resources (including Secretariat staff and other uses of core and supplementary funding, as well as resources committed by GBIF Participants). Using this information, an Annual Work Programme is defined for the following year. Each Annual Work Programme identifies a prioritized set of tasks for work during the year. Annual Work Programmes in the second and subsequent years also report on progress against the plan.
The Implementation Plan is reviewed and refined each year.
The Implementation Plan is presented here with updates reflecting progress during 2019 and planned activities for 2020 (the 2020 Annual Work Programme).
GBIF Annual Work Programme 2020
For convenience, this information has also been collated as an Overview of 2020 Work Items of the items for which approval is sought from the Governing Board at GB26.
Financial situation
The Secretariat estimates a carry-over of €992,558 at the beginning of 2020. This amount is smaller than the carry-over from 2018 (€1,556,714) due primarily to Governing Board requested increase spending in 2019 on external contracts and workshops (€719,000) in the work programme. Given the level of capital held by GBIF and the uncertainty of contributions, the 2020 budget includes a smaller allocation (€413,000) for contracted activities in the work programme expenditure (i.e. non-salary costs allocated to calls, workshops, contracts, etc.) than proposed for 2019 at GB25, and €300,000 less than the actual 2019 spend after budget revisions. Staffing levels do not change in the 2020 budget. The planned expenditure for 2020 is €471,806 greater than the income projected in the budget. This is considered to represent a responsible balance between advancing GBIF's mission and reserving some funds against future risks (€520,752 net capital forecast for the end of 2020).
This budget narrative also includes a second scenario that considers a brighter financial situation. It outlines priority areas of spending on contracted and workshop activities that would be submitted in subsequent 2020 budget revisions, should conditions allow.
Scenario 2 differs from the submitted budget in the following ways. It also assumes an additional €300,000 in external funds or increased contributions from voting participants. This budget includes €660,000 for contracted and workshop activities in the work programme expenditures. The planned expenditure under scenario 2 for 2020 is €397,940 greater than the income projected in the budget. This is also considered to represent a responsible balance between advancing GBIF's mission and reserving some funds against future risks (€594,618 net capital forecast for the end of 2020).
Scenario
Baseline (#1)
Optimistic (#2)

Income assumptions

Participants pay at a similar level

Modifications from Baseline
Additional Voting Participants or Supplementary funds €320K/year

WP expenditure

€413,000

€660,000

2020 reserve

€520,752

€594,618
Planned expenditure
In addition to salary and operating costs (including support for GBIF Governance mechanisms), funding is reserved in the Work Programme 2020 for the following activities:
Baseline 2020 Work Programme budget for non-salary items:
Priority Area 1
Following the recommendations of the community-based Documentation Editorial Panel, continue to create new documentation supporting participation in GBIF, based on late 2019 review and prioritization framework (€30,000).

Develop joint training resources combining GBIF data mobilization and DNA barcoding, support for pilot workshop with Barcode of Life Data Systems (BOLD), Convention on Biological Diversity (CBD) and GBIF (€20,000).

Consolidate online e-learning platform with training resources, to make the data mobilization, data use for decision making and nodes training modules fully functional as self-instruction modules, using external contracts for some components as necessary; develop a strategy to meet future demand for on-site, moderated and self-instructed training. Work will involve collaboration with key partners: nodes, the pool of trainers and mentors, Nodes Steering Group and numerous international partner projects (€20,000).

Support for 2020 Regional Nodes Meetings (€60,000). The Secretariat will investigate possible synergies with BID phase 2 regional meetings, if funding is forthcoming, as well as with a BIFA workshop in Asia.

Support further development of the Living Atlases community (€30,000).

Support the alliance for biodiversity knowledge by working with steering committee on a governance structure and prioritizing the alliance efforts. Expand communication effort through conferences and the ambassador network (€10,000).

Launch a new 2020 call for proposals under the Capacity Enhancement Support Programme (€80,000).
Priority Area 2
Maintain and update processes for constructing the GBIF taxonomic backbone. €108,000 has been allocated in the budget to support GBIF contractor costs.
Priority Area 3
Carry forward the proposed 2019 activity of data mobilization of vectors and hosts of human diseases to 2020. The Secretariat will establish an expert group (€25,000) to identify priority needs for biodiversity data supporting disease research, critical gaps in availability of such data in GBIF.org, and potential sources of data to fill these gaps.
Priority Area 4
Explore bidirectional data linking and synchronization with data management systems and publishers to achieve faster and more accurate mutual updates on data improvements and annotations (€10,000).
Priority Area 5
Contract a study on use of GBIF-mediated data in the academic literature, with the goal of identifying areas of impact, links to research funding sources and networks of researchers. This information will be used to fine-tune GBIF value proposition message and align future Work Programmes to achieve greater impact (€20,000).
Other Funds
The initial phase of the Biodiversity Information for Development (BID) programme will be completed by the end of 2019; however, the funder—the European Commission Directorate-General for International Cooperation and Development (EU DEVCO) has agreed to continue the programme with new funding of €1.6m from 2020–2023. This includes approximately €120,000 in funding for work by GBIF Secretariat staff in 2020.

A fifth call for proposals under the Biodiversity Information Fund for Asia (BIFA) programme will be issued in late 2019 or early 2020, using €131,395 supplementary funds received from the Ministry of Environment, Government of Japan. Subject to agreement by the BIFA Steering Committee, we anticipate that €20,000 of this supplementary funding is to be allocated to Secretariat staff coordination costs during 2020.

Governance funds: Launch 2020 calls for the Ebbe Nielsen Challenge and Young Researchers Awards (€44,000), considering recommendations from the Science Committee based on the 2019 programmes. The Science Committee is exploring potential external funds for these awards.

Lastly, the European Commission has funded the SYNTHESYS+ project "to unify European natural science collections, effectively transforming them into an integrated data-driven pan-European research infrastructure". GBIF is funded for €50,000 in 2020 (as well as €20,000 in 2021 and €20,000 in 2022) to advance joint planning for infrastructure components.
Areas to expand activity
If funding allows, the Secretariat will request that the following items be incorporated into the 2020 budget with approval of the GBIF Executive Committee.
Priority area 1
Increase alliance for biodiversity knowledge activity to €20,000, Living Atlases to €40,000 and CESP to €100,000.

Create an additional funding priority area alongside the CESP call for GBIF node regional outreach activities as outlined in the Regional Participation Strategy (€40,000).

Continue development and implementation of a strategic plan for targeting external funding streams for capacity enhancement projects (€22,000).

Initiate engagement, data mobilization and capacity enhancement campaign for Arabic speaking regions (€20,000).
Priority area 2
Redesign the GBIF Integrated Publishing Toolkit (IPT) to support emerging data standards, explore integrations with quality control routines and to address infrastructural needs (ability to install locally, use a GBIF hosted solution or connect to a third-party repository). If funds allow €50,000 for an external contractor.
Priority area 5
Engage with academic based projects that use or could use better GBIF data in their pipelines and protocols. If funding allows hold a workshop to stimulate use (€25,000).

Hackathon and workshop to align GBIF with post-2020 Biodiversity Framework (€40,000). The event would develop tools from CESP-CHM project to improve links to data from GBIF.
Secretariat staffing
Staffing levels will remain the same in 2020 with the increases in recent years have enabled the Secretariat to maintain an increasing level of service. We currently have 27 staff (three of whom work part-time) and are in the process of recruiting an additional informatics position. In addition to the Director and Deputy Director, the Secretariat is now structured as four teams, as follows:
Participation and Engagement (seven staff)

Data Products (four staff)

Informatics (eight staff, one contractor, one additional staff position to be filled)

Administration (six staff, plus student support)
All staff work towards accomplishing the goals of the five Priority Areas in the 2017–2021 Strategic Plan, with most staff working towards multiple areas.
Priority 2: Enhance Biodiversity Information Infrastructure
Priority 4: Improve Data Quality
GBIF Implementation Plan 2017–2021
The GBIF Strategic Plan 2017–2021 presents five broad overlapping priorities for the GBIF network. Each of these priorities sets a direction and guides activities for the coming period. This document here presents an Implementation Plan to enable the GBIF community as a whole to make significant progress in each priority area. It establishes the framework for GBIF's Annual Work Programmes over the period of the Strategic Plan.
The following notes provide context for the activities outlined here.
Delivery
Some activities in this plan will be led or coordinated by GBIF Secretariat staff, using core or supplementary funds. Other activities may be led or coordinated by GBIF Participants with particular interest or expertise in the areas in question.
Combining energies across the whole network within the framework of this plan will enable GBIF to progress the set of activities identified in this document more rapidly. Each Annual Work Programme in the period 2017 to 2021 will build on progress in past years and will focus available resources on remaining priorities identified in this document.
Structure of GBIF
GBIF operates on three primary levels:
Global – GBIF is an international activity and works at the global level to increase standardization and adoption of best practices, to facilitate sharing of expertise and resources and to offer an integrated global dataset and associated informatics infrastructure.

Participant – GBIF Participants, including the nodes that they establish, have primary responsibility for engaging stakeholder communities, mobilizing and curating data, providing support and training, and ensuring that national researchers and agencies gain maximum benefit from GBIF. GBIF regional networks provide a framework for national and organizational stakeholders to collaborate more closely, particularly when addressing challenges and opportunities they share.

Data Publisher – Data-holding institutions, agencies and individual researchers are the foundations on which GBIF depends. GBIF has a responsibility to ensure that data publishers have access to the tools and support that they need and that they receive recognition for their work and contributions.
This Implementation Plan seeks to address needs at all three of these levels while aiming to reinforce the value of GBIF for stakeholders at each level. It is highly desirable to increase coordination and feedback between these levels. The 2019 version of the document includes reports from a few GBIF Participants on their 2018 activities and 2019 plans. It would be most beneficial to receive inputs from a wider range of Participants to give a clear picture of everything occurring in the network and to assist the Secretariat and all Participants with better alignment and reuse.
A particular requirement is for the GBIF network to maintain and coordinate software to support each of these levels and to ensure that the publication, integration, management and use of data are as efficient as possible.
At the global level, GBIF focuses on delivery of GBIF.org as a software platform to support both human users and tools (via web services). Many of GBIF's goals depend on being able to deliver a fully integrated view of all data from all sources in the best possible forms.
At the data publisher level, GBIF maintains the Integrated Publishing Toolkit (IPT) as its default tool for sharing GBIF-compatible data. Ongoing enhancements are required to increase both the usability of this tool and the value that its services provide to data publishers. At the same time, GBIF seeks to support GBIF-compatible data publishing via other tools such as collection management systems and citizen science platforms.
At the Participant level, several efforts have been made to deliver generic portal tools to assist node managers in their work and to deliver value at the national level. The most significant roles for such a platform would be to:
Enable national- or regional-level integration and curation of datasets

Enhance data records to reflect national administrative units and national species lists

Provide tools that meet the requirements of national or regional researchers, policymakers and the general public
Over the last few years, a growing number of GBIF Participants have collaborated to leverage Australia's investment in the Atlas of Living Australia (ALA) and to customize these tools to deliver their own portals. The Implementation Plan responds to this with a focus on increasing community development and support to deliver a reusable and sustainable portal toolkit based on the ALA tools. This approach not only benefits Participants already committed to using these tools, but also provides a solution for rapid adoption by other Participants at national, regional, or even thematic levels. In addition, Belgium has indicated an interest in exploring the potential for an alternative lightweight solution based on repository tools such as CKAN.
The vision for the technical aspects underlying this Implementation Plan is that the components developed and offered by the GBIF network at each scale should combine to deliver a robust solution to support GBIF data management and that together they should continue to evolve to support a leading international data infrastructure. One aspect of this will be to ensure that all users can share and reuse common components such as data validation tests and that GBIF promotes and fosters wider activity around open projects.
GBIF is more than just a technical network, and this Implementation Plan also addresses the capacity enhancement, networking, communication and reporting activities necessary to advance GBIF's work in these areas. Since it is impossible for GBIF to support all aspects of its network using core funds, this plan focuses on resources which will support the work of GBIF Participants and data holders everywhere, coordinating the skills, expertise and investment of the whole network to maximize benefits to all stakeholders.
Timeline
None of the priorities, or the more specific goals identified for each priority, can be achieved in a single year; each will require coordinated effort across multiple annual work programmes. This document describes the set of activities currently recognized as important to deliver the Strategic Plan over the five-year period. It will be revised and expanded as required each year to address changes in the landscape in which GBIF operates.
This Implementation Plan was presented for approval by the Governing Board at GB23. It was accompanied by the Annual Work Programme for 2017. Both components were approved at the meeting.
Additional commitments from GBIF Participants or others to contribute or deliver particular elements will be welcomed throughout the five-year implementation period.
Resources
GBIF has a range of resources for use in delivering its programme of activity, including core funding from annual Participant contributions, supplementary funds (including BID and BIFA and funds received for activities within other projects), and investments by GBIF Participants.
These resources combine as follows:
Core Funding
Supports GBIF Governance structures (Governing Board, committees)

Supports staffing and operation of GBIF Secretariat to coordinate global activity, including:

Delivery of global-level IT infrastructure (GBIF.org)

Coordination of delivery of software components to support Participants and Data Publishers

Coordination of capacity enhancement activity and information materials for Participants, Data Publishers and Users

Coordination of supplementary-funded activity and Participant investments in shared GBIF activity

Monitoring and reporting usage and benefits

Administrative support for GBIF activities

Communication, outreach and partnership activities

Limited funds to support workshops, capacity enhancement and developments to expand or enhance GBIF
Supplementary Funding
Additional funds to support workshops, capacity enhancement and developments to expand or enhance GBIF

Funding to support Participants and Data Publishers with content mobilization or development of national Biodiversity Information Facilities
Participant Investments
Operating GBIF nodes

Engaging with and supporting data publishers and users

Curating data from Data Publishers

Additional funds or staffing to support workshops, capacity enhancement and developments to expand or enhance GBIF
In past years, Annual Work Programmes have been developed to reflect the use of Core Funding, but this Implementation Plan is intended to offer a framework for GBIF Participants and other stakeholders to take leadership in delivering some of the identified activities and tasks. Where possible, Participants are encouraged to seek funds or allocate staff time to enable progress in areas beyond those for which Core Funding is adequate.
All such commitments reported by GBIF participants have been included within the 2017 Annual Work Programme and will be reported as part of GBIF's work during the year.
Additional Participant commitments will be most welcome at any stage in the implementation of the 2017 Annual Work Programme and for inclusion in subsequent Annual Work Programmes. Examples of such commitments include (but are not limited to):
Organization of workshops to develop required new standards or best practice recommendations

Capacity enhancement and training at regional or global levels, in particular for workshops and projects in regions which are not addressed by current Supplementary Funding sources

Development of tools or software components to advance GBIF's work

Representation of GBIF in international fora

Recruitment of additional GBIF Participants
Please advise the Secretariat at the earliest possible opportunity of any such proposed commitments. A form is made available for this purpose.
Implementation Plan Structure
The Implementation Plan is structured around the five priorities identified in the GBIF Strategic Plan 2017–2021. These are presented here in reverse order from their sequence in the Strategic Plan, and numbered accordingly. This reordering allows the Implementation Plan to place its initial focus squarely on the global network of GBIF Participants and data publishers, building on these foundations to address in turn GBIF's informatics, content mobilization, curation and delivered products.
For each of the five priorities, the plan presents a series of numbered Activities. These are the major areas where GBIF needs to develop further in the coming period. A rationale and implementation approach is presented for each Activity.
Based on the implementation approach, each Activity includes a series of Tasks. These Tasks are the items that the Annual Work Programmes need to address. They are presented here within each section describing the Activity.