Overview
This document serves both as the 2021 revision of the GBIF Implementation Plan for the period 2017-2022 and also as the GBIF Annual Work Programme 2021. Both elements are based upon the GBIF Strategic Plan for 2017-2022.
The relationship between these documents is represented by the following graphic. Due to unprecedented global interruption due to the Covid-19 pandemic the Executive Committee, without objection from the Governing Board, has extended the current GBIF Strategic Plan for an additional year until 2022. Therefore, this GBIF Annual Work Programme 2021 represents the penultimate programme of this strategic plan.
The Strategic Plan (agreed in 2015 at GB22) established five priorities for GBIF's work. The Implementation Plan presented here in this document identifies 22 activities which GBIF must undertake to address these priorities during the six-year period (and a set of specific tasks under each activity).
The relationship between these documents is represented by the following graphic.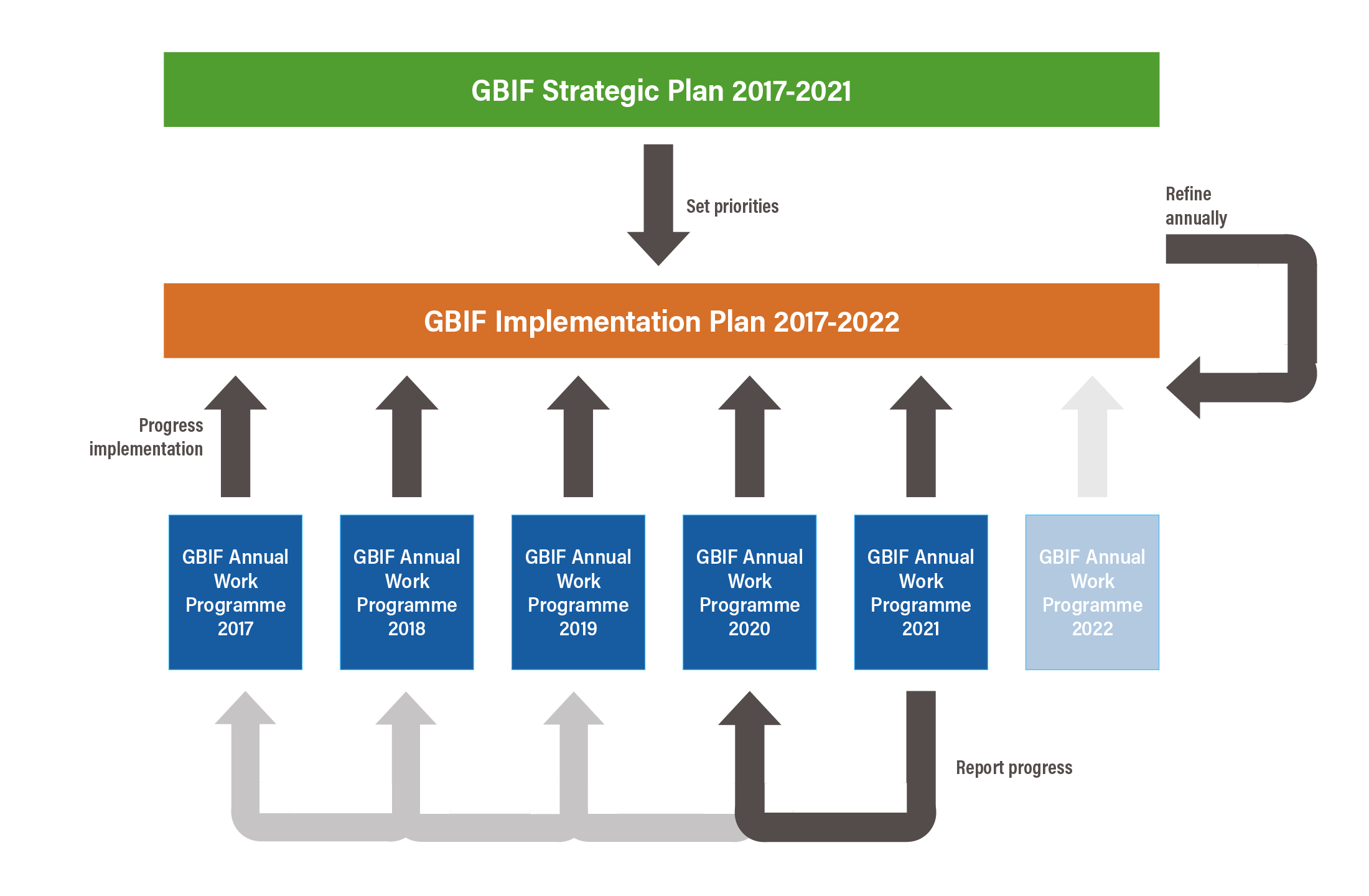 Each year, GBIF reviews progress against these activities and available resources (including Secretariat staff and other uses of core and supplementary funding, as well as resources committed by GBIF Participants). Using this information, an Annual Work Programme is defined for the following year. Each Annual Work Programme identifies a prioritized set of tasks for work during the year. Annual Work Programmes in the second and subsequent years also report on progress against the plan.
The Implementation Plan is reviewed and refined each year. The Implementation Plan is presented here with updates reflecting progress during 2020 and planned activities for 2021 (the 2021 Annual Work Programme).
GBIF Annual Work Programme 2021
Information on activities planned for 2021 is included under each of the Activity sections included in the 2021 implementation plan update below. For convenience, this information has also been collated as an Overview of 2021 Work Items of the items for which approval is sought from the Governing Board at GB27.
Financial situation
As of September 2020, current and imminent Voting Participant contributions are slightly above total expected contributions approved in the GB26 budget. This total, however, takes into consideration expected inability of some countries to pay contributions. Therefore, the total financial contribution provided by countries remains below the goal set forth in the financial model approved at GB22.
Due to the unexpected COVID-19 pandemic, mid-year alterations to the approved 2020 Work Programme and budget were made by the Secretariat and approved by the Executive Committee. The Work Programme changes took into account the inability to accomplish some items due to travel restrictions and the general changed expectations due to staff remote working for nearly the entire year, including many staff working without normal family/childcare support. A goal of these budget changes was to cushion potential negative financial impacts on 2021 and future budgets by COVID-19 effects on the ability of Voting Participants to fund annual contributions.
A COVID-19 Reserve has been created. It is intended as a short-term (2-3 years) mechanism to fill potential funding gaps. This accounting mechanism was made available from savings the Secretariat received from lower travel and meeting expenditures in 2020.
The Work Programme budget items were adjusted with the overall budget level similar to the budget adopted in GB26. Changes include:
Increased funding for Capacity Enhancement Support Programme (CESP) from €80,000 to €100,000

A consultancy was funded for an analysis of biodiversity data needs for the post-2020 global biodiversity framework (€30,000)

Increased funding for strategic communication on GBIF value proposition and responses to the CODATA 20yr review (€40,000)

Other major changes in 2020 were the short-term hiring of a staff member to cover parental leave

A strategic decision was made by the Secretariat to hire a Strategic Partnerships Officer to finalize and implement GBIF's resource mobilization strategy.

Specific WP items delayed or performed without external contracts are described below
As a result of the past year's staffing and Work Programme changes expenditures requested by the Governing Board, GBIF is expected to close 2020 with net capital of around €574,762, with an additional €461,000 in the Covid-19 Reserve.
The initial phase of the Biodiversity Information for Development (BID) programme completed in 2019; however, the funder—the European Commission Directorate-General for International Cooperation and Development (EU DEVCO)—has funded a continuation of the programme with new funding of €1.6m from 2020-2023. GBIF will receive around €70,000 in salary compensation funding for work by GBIF Secretariat staff in 2021.
A fifth call for proposals under the BIFA programme was issued in early 2020, using €131,395 supplementary funds received from the Ministry of Environment, Government of Japan. Subject to agreement by the BIFA Steering Committee, we anticipate that €20,000 of this supplementary funding is to be allocated to Secretariat staff coordination costs during 2020.
Given the level of capital held by GBIF and the uncertainty of contributions due to the pandemic, the 2021 budget includes a smaller allocation (€260,000) for contracted activities in the work programme expenditure (i.e. non-salary costs allocated to calls, workshops, contracts, etc.) than proposed for 2020 at GB26. Staffing levels do not change in the 2021 budget. The planned expenditure for 2021 is €496,332 greater than the income projected in the budget. This is considered to represent a responsible balance between advancing GBIF's mission and reserving some funds against future risks (€539,430, net capital forecast for the end of 2021). A second, brighter budget scenario is presented in this Work Programme, including extended expenditures on calls, workshops and contracts if more Voting Participant contributions are forthcoming. Work items prioritized for this additional expenditure, to be approved in budget amendments should conditions allow, are indicated in the detailed activity sections below.
| Scenario | Baseline (#1) | Optimistic (#2) |
| --- | --- | --- |
| Income assumptions | Participants pay at a similar level | Additional medium to large VP contribution |
| WP expenditure | €260,000 | €465,000 |
| 2020 reserve (including COVID-19 Reserve) | €539,430 | €531,639 |
Planned expenditure
In addition to salary and operating costs (including support for GBIF Governance mechanisms), funding is reserved in the Work Programme 2021 for the following activities:
Baseline 2021 Work Programme budget for non-salary items:
Priority Area 1
Launch a new 2021 call for proposals under the Capacity Enhancement Support Programme (€80,000)

Support further development of the Living Atlases community (€30,000)

Support for 2021 Regional Nodes Meetings (€32,000). The Secretariat will investigate possible synergies with BID phase 2 regional meetings, if funding is forthcoming, as well as with a BIFA workshop in Asia. An additional €28,000 has already been transferred from the 2020 budget towards hosting of the Africa regional nodes meeting.

Develop communications to support the GBIF value proposition (€10,000)
Priority Area 2
Maintain and update processes for constructing the GBIF taxonomic backbone. €108,000 has been allocated in the budget to support GBIF contractor costs
Other Funds
Supplementary funds: Implement a sixth call for proposals (approximately €110,000) under the Biodiversity Information Fund for Asia (BIFA), reflecting priorities agreed by Asian nodes and subject to decision by the BIFA Steering Committee.

Governance funds: Launch 2020 calls for the Ebbe Nielsen Challenge and Young Researchers Awards (€25,000), considering recommendations from the Science Committee based on the 2020 programmes. The Science Committee is exploring potential external funds for these awards.
Secretariat staffing
Staff increases in recent years have enabled the Secretariat to maintain an increasing level of service. We currently have 28 staff (three of whom work part-time). In addition to the Director and Deputy Director, the Secretariat is now structured as four teams, as follows:
Participation and Engagement (eight staff)

Data Products (four staff)

Informatics (eight staff, one contractor)

Administration (six staff, plus student support)
All staff work towards accomplishing the goals of the five Priority Areas in the 2017-2022 Strategic Plan, with most staff working towards multiple areas. The Secretariat internally reports salary to the Work Programme Priority areas and Secretariat management based on an estimate of staff time spent on the areas.
Priority 2: Enhance Biodiversity Information Infrastructure
Priority 4: Improve Data Quality