Overview
This document serves both as the 2022 revision of the GBIF Implementation Plan for the period 2017-2022 and also as the GBIF Annual Work Programme 2022. Both elements are based upon the GBIF Strategic Plan for 2017-2021, which was extended for one year due to the challenges created by the global pandemic.
The GBIF Annual Work Programme 2022 represents the final programme based on the current strategic plan. The new strategic planning framework for the period 2023-2027 was approved at the 28th GBIF Governing Board meeting (GB28) in October 2021, and it will form the basis of a new implementation plan to be developed during 2022.
The Strategic Plan 2017-2021, agreed at the GB22 meeting in 2015, established five priorities for GBIF's work. The Implementation Plan identified 22 activities which GBIF must undertake to address these priorities during the six-year period.
Each year, GBIF has reviewed progress against these activities and available resources (including Secretariat staff and other uses of core and supplementary funding, as well as resources committed by GBIF Participants). Using this information, an Annual Work Programme is defined for the following year. Each Annual Work Programme identifies a prioritized set of work items during the year. Annual Work Programmes in the second and subsequent years have also reported on progress against the plan.
The relationship between these documents is represented by the following graphic.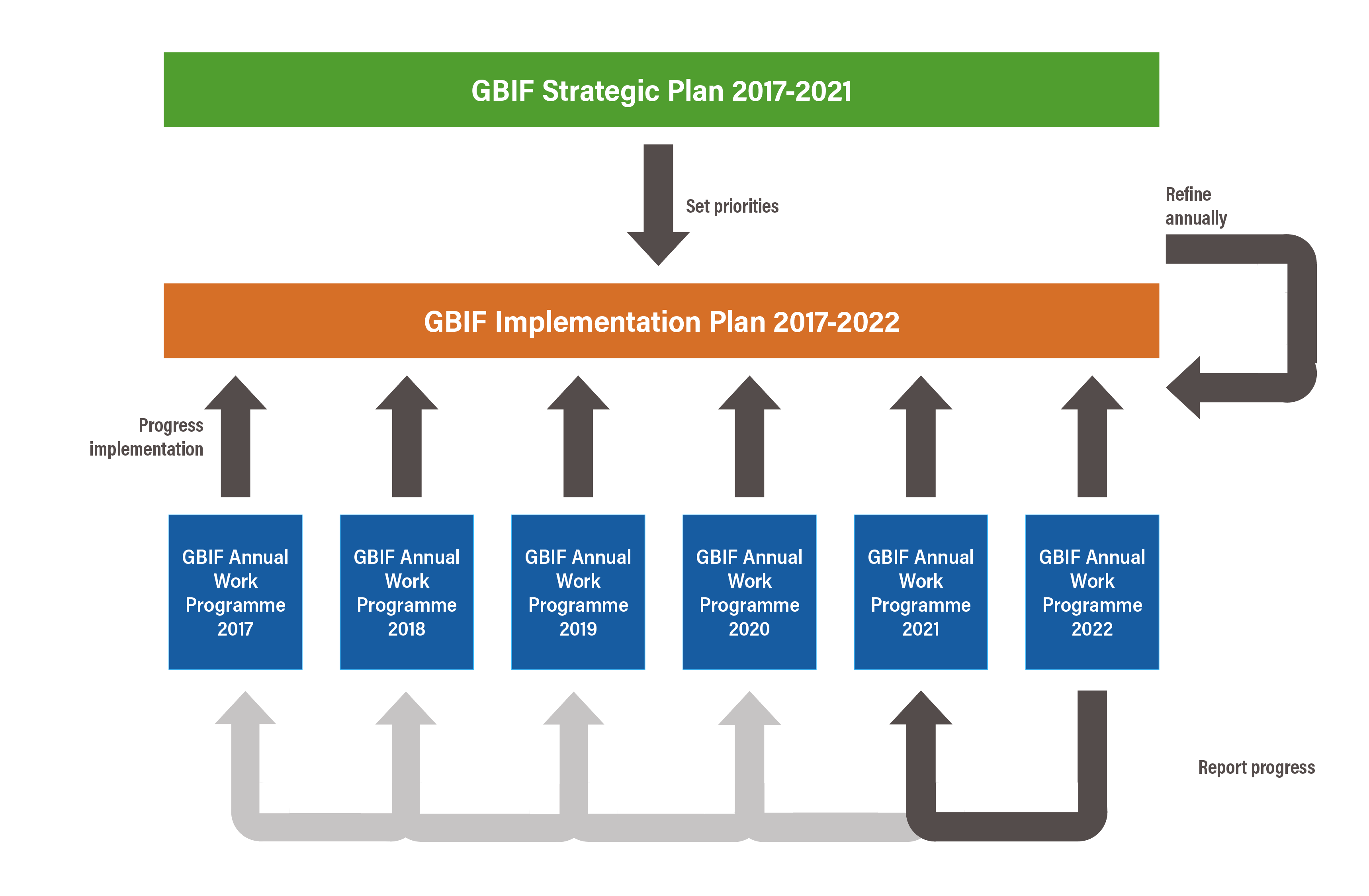 The Work Programme is presented here with updates reflecting progress during 2021 and planned activities for 2022.
GBIF Annual Work Programme 2022
Information on activities planned for 2022 is included under each of the Activity sections included in the 2022 implementation plan update below. For convenience, this information has also been collated as an Overview of 2022 Work Items listing the items for which approval is sought from the Governing Board at GB28.
Financial situation
As of September 2021, current and imminent voting participant contributions are slightly above expected contributions approved in the GB27 budget. This targeted total, however, takes into consideration expected inability of some countries to pay contributions. Therefore, the total financial contribution provided by countries remains below the goal set forth in the financial model approved at GB22.
The 2021 budget approved by GB27 included funds for travel and in-person meetings in 2021 (including regional meetings and GB28), but very little of this was used, and these budget items were downscaled in a mid-year revision. Partly due to these savings, €200K budgeted within the 'COVID-19 reserve' was deemed not to be needed, and following mid-year approval by the Executive Committee the Secretariat removed this level of reserve from the budget.
The 2021 Work Programme budget items were adjusted with the overall budget level similar to the budget adopted in GB27. Changes approved by the Budget Committee and Executive Committee for each Strategic Plan Priority are listed below. Information on each new or amended item is included in the 2021 progress reported for all activities.
2021 expenditure on external contracts and workshops
In addition to salary and operating costs (including support for GBIF Governance mechanisms), funding was allocated from core funds to the 2021 Work Programme. These projects and amounts were updated throughout 2021 with EC approval. Estimates for total 2021 spending for the following activities are:
Priority 1:
Communications to promote value proposition responses to the 20 review (€30K).

Support for Living Atlas Activity (€20K).

alliance for biodiversity knowledge (€10K).

Capacity Enhancement Support Programme (€80K).
Priority 2:
Consultancy to begin development of improved data models (€30K).

Contracted Web Development (€20K).

To support contractor and costs to maintain and update processes for constructing the GBIF taxonomic backbone in conjunction with COL+ (€108K).
Priority 3:
Human disease vector data mobilization campaign (€25K)

Soil biodiversity data mobilization campaign (€25K)
Supplementary income
The following additional expenditure was enabled by supplementary funds received or budgeted during 2021:
JRS Biodiversity Foundation additional contribution to African Biodiversity Information for Development (BID) projects: €411K

Biodiversity Community Integrated Knowledge Library (BiCIKL) project (EU Horizon 2020): Developer costs €66K

Support for Asia regional support contracts through SYNTHESYS+ (European Union): €109K

Salary subsidies (BID, SYNTHESYS+, DiSSCo Prepare and BiCIKL): increased to €152K
As a result of the past year's staffing and Work Programme changes, GBIF is expected to close 2021 with net capital of around €398,181, with an additional €461,000 in the COVID-19 Reserve.
The 2022 proposed budget includes a smaller allocation (€400K) for contracted activities in the Work Programme expenditure (i.e. non-salary costs allocated to calls, workshops, contracts, etc.) than currently budgeted for 2021. The proposed 2022 budget uses just over half (€261K) of the COVID-19 Reserve. The planned expenditure for 2022 is €188,155 greater than the income projected in the budget. This is considered to represent a responsible balance between advancing GBIF's mission and reserving some funds against future risks (€471,026, net capital forecast for the end of 2022).
GBIF is a maturing infrastructure and network of people. This maturation has enabled infrastructure improvement, inclusion of new data types and stronger global engagement. It also comes at an increased cost to maintain the infrastructure and engagement at current levels. The current core budget is based on €3.5 million from Voting Participants, but the amount actually received is typically less than this. Staff growth in past years means that staff salaries and basic operational costs (including insurance) are now similar to or exceed Voting Participants' contributions. This leaves little room for increased feature development and engagement using core funds.
To meet the development needs, the Secretariat has initiated a resource mobilization strategy to meet these needs with supplementary funding. The Secretariat is confident that the value presented by BID and other supplementary programmes, present infrastructure and data quality improvements will be translated into a strong external funding stream.
Planned expenditure
In addition to salary and operating costs (including support for GBIF Governance mechanisms), core funding is reserved in the Work Programme 2022 for the following activities:
Priority Area 1
Commission risk assessment study for sensitive species data (€15K)

Launch a new call for proposals under the Capacity Enhancement Support Programme (€80K)

Support further development of the Living Atlases community (€15K)

Support for 2022 Regional Nodes Meetings (€32K) - note that some meetings will be supported from supplementary funds or funds reserved from previous budgets

Support for the alliance for biodiversity knowledge (€20K)
Priority Area 2
Update GBIF data models (€40K)

Maintain and update processes for constructing the GBIF taxonomic backbone. €108K has been allocated in the budget to support GBIF contractor costs

Web Developer contract (€30K)
Secretariat staffing
The Secretariat is in the process of hiring two new staff members. In response to GB value proposition discussions and the recommendations of the CODATA review of GBIF's first 20 years, the Secretariat has hired a new communications officer to begin in October 2021. This new staff member is part of the Participation and Engagement staff. We currently are recruiting an administrative assistant to supplement our capacity in our administrative staff. These new hires will bring our staffing level to 30 staff, three of whom work part-time. In addition to the Director and Deputy Director, the Secretariat is structured as four teams, as follows:
Participation and Engagement (nine staff)

Data Products (four staff)

Informatics (eight staff)

Administration (seven staff)
All staff work towards accomplishing the goals of the five Priority Areas in the 2017-2022 Implementation Plan, with most staff working towards multiple areas. The Secretariat internally reports salary to the Work Programme Priority Areas and Secretariat management based on an estimate of staff time spent on the areas.
2022 Implementation Plan Update
Note that the 'Rationale' section in each activity is presented with the original wording from the Implementation Plan in 2017, to show the original intention of the activity. Updates on Participant contributions and Participant plans provided by the nodes are included in this final version for review alongside the Work Programme.
Priority 2: Enhance Biodiversity Information Infrastructure
Priority 4: Improve Data Quality